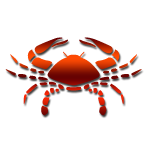 Health: As per health horoscope 2022, the beginning of the year would bring average results. There would be problems due to weather bone diseases because of the effect of Jupiter in the eighth house. Improve your daily routines along with food habits, and it is advised to take regular exercise in the form of yoga in the morning while doing Pranayam. Do not have mental tension because of any economic aspect or opponent. In the latter half of the year, health would be well and steady, and you would have a positive attitude and thoughts in your mind because of the beneficial aspects of the planet on the ascendant.

Career: As per Cancer career horoscope 2022, it predicts a fairly productive timeline for you. Despite possible worries in other spheres of life, stability, higher labor productivity, and good relations with management are expected in professional activity. There are certain career opportunities that could pop up in the mid-year. Consider both the upside and downside before making a change because optimism can be best for you. Better use of this might be networking and aligning yourself with the most advantageous decision-makers. The result could be job protection against all advancement.

Love/Marriage/Personal Relations: As per Cancer love horoscope 2022, Cancer natives have favourable results in the first quarter of the year, but relationships may get better in the mid-year. There will be love and respect between you and your partner. Cancer natives who are currently single may get into a romantic relationship during the second half of the year. Your social and romantic life is most likely to be dominated by strong passion. Even in your daily life, you will be livelier than ever. You may face some ups and downs in your social existence during this year.

Advice: For good health, wear a red coral gemstone with a ring finger in gold. For better academic results, sit in the east direction while studying For better business opportunities do plantations in educational institutes or temples for marriage-related problems. Also, avoid wearing black and grey shades and offer food to a handicapped person. For the betterment of job daily, meditate while chanting the word "Mad" OM for five minutes

General: Cancer horoscope 2022 is based on Vedic Astrology and reveals that on April 13, Jupiter will transit the Pisces sign in the ninth house, and Rahu will transit in the Aries sign in the 10th house on April 12. On April 29, Saturn would transit Aquarius sign in the eighth house, and on July 12, it would transit Capricorn sign in the seventh house after becoming retrograde.

Finance: As per Cancer finance horoscope 2022, it promises to be an auspicious year from an economic perspective. The presence of Rahu in the 11th house means that you should have your desired savings. You should work well to improve your financial status this year. Cancer natives would incur some expenditure on auspicious family events, and it is a favorable time to make a big investment.

Family & Friends: As per the Cancer Family horoscope 2022, the year would be average result-oriented from a family perspective. An environment of peace and harmony would prevail in your family because of the combined aspect of Jupiter and Saturn on the fourth house. You would get full cooperation from your mother. In the second half of the year, worries regarding children would be over, and social prestige will be higher at this time, and you would also participate enthusiastically in social activities, and will get full cooperation from your younger brothers and sisters.