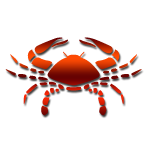 Health: This month will bring mixed results for the Cancer natives in terms of health. The lord of your sixth house, Jupiter, is transiting in your ninth house. Sun and Venus will aspect your eighth house during this time, due to which you will not face major health issues, but you will suffer from minor diseases throughout the month. Therefore, take special care of your health during this period. Especially stomach related problems will trouble you at this time. You must pay attention to your eating habits and avoid spicy and junk food. The natives, who already have health issues from the past, need to be careful regarding their health this month.

Career: This month will be favourable for the Cancer natives in the career domain. Venus will transit and conjoin with the Sun in your second house during this time which will give you good career opportunities in the first half of the month. You will complete all your pending work at the workplace, which will increase your respect among your peers. The natives associated with foreign will also receive good news this month. Chances are that a foreign project will pass or if you have wanted to go on a foreign trip then you might get a chance to go on a business trip abroad. This period will be better than usual for the Cancer businessmen. They will progress in their career by expanding their business. If you are associated with import-export then this period will bring an increase in your foreign sources. The change in planetary positions in the latter half of the month will give you more strength, and you will receive much-awaited career opportunities. Despite this, your nature will be arrogant. You must try to avoid being prideful due to your career and luck, or else, you will miss out on many favourable opportunities.

Love/Marriage/Personal Relations: The Cancer natives will get mixed results in their love life this month. Saturn will transit in its own Capricorn sign and will be present in the seventh house. Due to this, there will be misunderstandings in the love relationship of the natives. It will create distance between you and your beloved, and you will feel the lack of love and romance in your life. Some natives might feel attracted to other people of the opposite sex. So, it will be better to resolve all your issues on time through the right course of action. The conflicts among the married Cancer natives might increase during this time. Owing to this, don't doubt each other's loyalty and take your relationship forward with trust while avoiding unnecessary arguments. If you still have doubts, then clear them out with your life partner directly. Only by doing so will you be able to make your marital life better and steer clear of mental stress.

Advice: Add sesame seeds to the milk and perform Lord Shiva's Jalabhishek regularly with it. Wear pearl gemstone. Perform Abhishek of Lord Shiva with sugarcane juice.

General: Cancer natives are more emotional, knowledgeable, and caring than other natives of the other signs. You have a wonderful art of making others your own and do not like to hurt anyone's feelings intentionally. The Cancer natives know how to manage their relationships well, and in September 2022, they will enjoy a better than usual time. During this period, Venus will transit in your second house and conjoin with the Sun, which will be favourable for your career. The working employees will get good opportunities at the beginning of the month, and they will be able to complete all their tasks on time at the workplace. Cancer businessmen will progress in their careers as their foreign projects will pass. However, the first half of the month will make you work hard. Cancer natives will also get a good outcome in academics. Jupiter will transit in your ninth house and aspect the third house, which will help the students to perform well in their studies with the support of their siblings. They will understand the topics well, which seemed difficult to them in the past. However, your company will occasionally distract you from your studies, so make sure that you pay attention to your education and change your companionship if needed. The presence of the Sun in the third house in the second half of the month will form the "Budhaditya" yoga with Mercury. This will give you excellent results and increase your interest in religious and deep subjects. Due to this, you will be seen actively participating in spiritual activities. Many natives can plan to go on a religious tour with their siblings. This month, the Cancer natives will attain the support of their family and friends. However, you will have to pay attention to your love relationships. Saturn is transiting and entering your seventh house, which will give you hardships in your love life. Instead of feeling powerful, you will feel emotionally weak during this time. The married natives, too, will get into conflicts with their life partner frequently and deprive themselves of marital happiness. This will lead to mental stress. This month will be financially strong for you. When Venus will transit in your second house with the Sun, you will attain immense wealth. This period will especially be good for the business, and you will be able to achieve work progress. You will get rid of all your financial troubles during this time. Despite this, you must save your money from the beginning. In terms of health, you will have to face ups and downs this month. The lord of your sixth house, Jupiter, will transit in your house of fate, i.e. the ninth house, and the aspect of sun and Venus will fall on the eighth house, due to which you will not face major health issues, but minor diseases may bother you.

Finance: The Cancer natives will get auspicious results in the financial domain this month. Venus will transit with the Sun in your second house in the first half of the month. The presence of conjoined Venus and Sun will help you get rid of all your financial troubles and strengthen your financial status. You will increase your sources of income and earn good money. All the strategies you had to put on hold due to the lack of finances will start again and give you success. But the aspect of Mars on your second house will result in a fall in your income. You might also face problems due to the increase in your expenses. You are advised to control your expenses during this time.

Family & Friends: Cancer natives will get positive fruits in terms of family life this month. The Sun will transit with Venus in your second house in the first half of the month, and the presence of the Sun in your house of family will be beneficial for your family life. You will experience harmony in the house, and attain the support of the family members. You will get the respect in the house for which you have been waiting from the past. However, when Sun will transit in your third house in the latter half of the month, then Mercury present there will conjoin with the Sun and form the Budhaditya yoga and you will attain auspicious results because of it. You might even go on a religious trip with your siblings in this period where you will get to spend time with them and learn about some matters of their life.