Makar Sankranti 2020: Know The Rituals, Date & Shubh Muhurat
Makar Sankranti 2020 is all set to surprise us with new possibilities and opportunities. Saying would not wrong that festivals play a major role in increasing the joy and happiness in life. They fill us with a new kind of energy. Makar Sankranti is one of the prominent festivals, we wait all year long.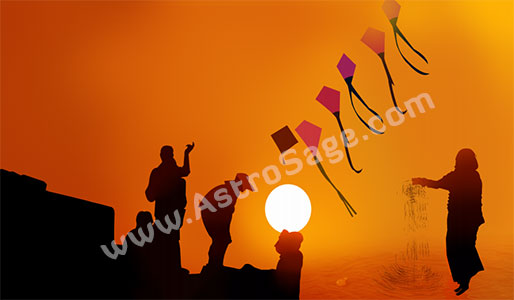 In 2020, Makar Sankranti will be celebrated on January 15 all across the country. Makar Sankranti is one of the very auspicious festivals as well as considered quite popular in Hindu religion. It is also called Utarayani since the weather changes after this festival. It means days start getting longer and nights get shorter. It also indicates that summers are on the way. On this auspicious occasion, delicious dishes are made in every home. People celebrate this festival in different ways. Moreover, most devotees also head to holy river Ganga to take a dip and worship Lord Surya. In the South region, Makar Sankranti is celebrated as Pongal. In Punjab, it is celebrated as Lohri and Maghi. On the other hand, people in Rajasthan and Gujarat also celebrate this festival by flying Kites.
Makar Sankranti 2020 Muhurat
| | |
| --- | --- |
| Morning Muhurat | 07 :15 :14 to 12 :30 :00 |
| Duration | 5 hrs 14 mins |
| Evening Muhurat | 07 :15 :14 to 09:15:14 |
| Duration | 2 hrs 0 mins |
| Sankranti Time | 01:53:48 |
Makar Sankranti 2020: Religious Significance
Talking about the significance of Makar Sankranti 2020, there are so many stories behind Makar Sankranti:
According to the mythological stories, Makar Sankranti is an auspicious day on which Lord Sun heads towards his son's (Lord Shani) house.
Moreover, it is also said that Lord Vishnu killed the Asuras and pressed their heads with the Mandaar Mountain.
Makar Sankranti is a festival which celebrates the relationship of father and son.
This is the same day when holy river Ganga got merged into the sea since King Bhagirath carried out the Tarpan for his elders, hereby paying love and respect.
Makar Sankranti is not a festival restricted to a particular region but is celebrated all across India by a number of Hindus devotees. On this auspicious day, Magh Mela is organized in Allahabad.
Makar Sankranti 2020: Traditions & Rituals
We are talking about Makar Sankranti 2020 and we have mentioned the Makar Sankranti significance above. Let's talk about traditions and rituals about Makar Sankranti. On this day people head towards Ganga to get rid of their sins. Taking a dip in the Holy River Ganga is considered quite auspicious on this day, since it helps to get rid of all the sins you ever did knowingly or unknowingly. It is also considered that this makes your soul pure. According to the astrological details, Uttarayana is considered as one day for the Devtas and Dakshinayan is considered one night. To put in simple words, Makar Sankranti is considered an auspicious festival which does not hold only religious importance but cultural as well. There are so many other scientific reasons behind celebrating this festival as well. According to the scientists, the warmth of the Sun increases, which leads to a rise in the atmosphere as well. On this auspicious day, Prashad made of Til and Gud is also distributed, which helps your body with any kind of diseases.
Makar Sankranti 2020: Celebratory Feasts
People celebrate this festival by preparing different types of food which bestow energy and play a major role to keep them warm in this nippy season. This festival will be considered incomplete without having Til Ke Laddoo, which comprises of Sesame seeds and Jaggery. This is also distributed among the family and friends. It is also considered that foods made from sesame seeds also hold the power to absorb the high amounts of sattva frequencies. And it makes your body get fit and healthy. Moreover, Gajjak and other things made from sugarcane are also eaten and served among the family members. People celebrate this day with a lot of fervor as well as excitement and a lot of happiness. Let's celebrate Makar Sankranti 2020 at its best.
Makar Sankranti 2020: Makar Sankranti And Other Names
Makar Sankranti 2020 is a festival which celebrates the end of winter, welcoming spring and the New Year. This prominent festival is traditionally associated with the harvest of the Rabi crops. Moreover, it is called "Utarayaani" in Uttarakhand and "Pongal" in Andhra Pradesh and Kerala. Farmers do a lot of hard work in order to grow the crops and then it is offered to God to pay respects. On this day, people also do fast in different areas. On this festival, fairs are also organized, with the most famous being organized in PrayagRaj (Allahabad).
Makar Sankranti 2020: Scientific Facts Behind Makar Sankranti
Makar Sankranti 2020 is considered important not only for religious or cultural purposes but holds great scientific importance as well. According to the scientists, Sun starts becoming warmer and dominates the chilly weather, after which the season of Summer begins. Hence items made of Til and Gud are eaten. According to Ayurveda, having Ghee, Oil, Sugarcane, sunlight and warm water is considered auspicious.
We wish you a very Happy Makar Sankranti. Thankyou For Reading.