Holi 2020 Date and Auspicious Muhurat
Holi is the festival of colours celebrated with a lot of joy and happiness. Holi 2020 will be observed on 10 March this year. Not only in India, but this festival also holds much significance in other neighbouring countries such as Nepal, Pakistan etc. along with continents with Indian diaspora. Holi falls in the month of Falgun. On this day, people share happiness and create good times. On this auspicious day, people welcome each other by smearing Gulal on each other's faces. Holi is considered as a symbol of love and unity.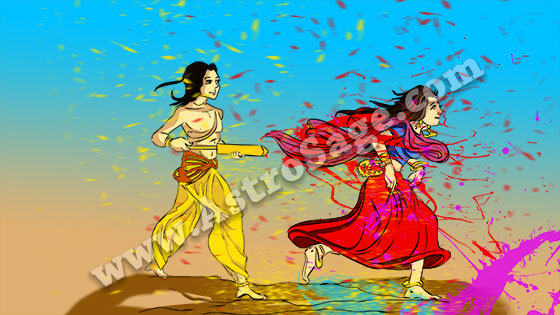 Free Horoscope For Your Zodiac Sign
As we have already mentioned the dates for Holi 2020, here you can find the rituals of Holi. Holi is incomplete without traditional Holi songs and instruments. Though the new generation might not be aware of those classic songs, still this ritual is performed by the elders. On the auspicious occasion of Holi, there is a wide array of dishes made such as Gujiya, Papad, and Halwa etc. Holi is pretty much popular among the kids, and they participate in it with all heart. They can easily be seen playing with water-filled balloons and Pichkari.
Moreover, the Holi played at Mathura, and Vrindavan Holi is quite famous all across the world because of its unique way. Let's find out more:
Holi 2020: Lathmar Holi– Holi in Barsana and Nandgaon kicks off around a week before celebrating the main day. Barsana is adjacent to Mathura, and the ritual followed here is called Lathmar Holi. As the name suggests, women beat men with sticks. In those days, Lord Krishna used to tease Radha and her friends, and the girls started using sticks to tease him away. Hence, young men and boys from Nandgaon visit Barsana every year only to be welcomed with "sticks".
Holi 2020: Holi at Vrindavan– Banke Bihari Temple is the prominent temple in Vrindavan and a beautiful sight during Holi. People and tourists visit this place often to understand the culture and enjoy this festival. During this festival, the idol of Bihariji is dressed up in white coloured clothes and brought closer for the devotees to offer colours. Moreover, the most exciting way of celebrating this day is with flowers.
There are many reasons for celebrating Holi. Holika Dahan is observed a day before Holi (Holi 2020 date has been mentioned above). As per the scriptures, a demon called Hiranyakashyap announced himself as the Supreme God and imposed a rule on people to worship him. As a result, Lord Vishnu showcased his power to control him. Hiranyakashyap had a son namely Prahalad who did not consider his father as a God and denied worshipping him. Hiranyakashyap tried his best to stop him from worshipping Lord Vishnu, but Prahlad did not give up.
In the end, Hiranyakashyap tried to kill Prahlad, but he got saved because of Lord Vishnu's blessings. He called his sister Holika to kill his son. Holika was blessed by Lord Shiva's boon that she cannot die even if she sits in the fire. To kill Prahalad, Holika sat with him in fire draping the magical cloth given by Lord Shiva. However, Lord Vishnu saved Prahlad by putting that magic cloth on him, and Holika died. After that Lord Vishnu took the avatar of Lord Narsingh and killed the demon Hiranyakashipu. Since that day, Holika Dahan is performed and the preaching of "good over evil" is taught to kids.
Holi 2020: Mythological Significance
Holi 2020: This festival is celebrated in India from the Vedic Kaal and has been mentioned in Vedas and Puranas. Holi is considered as the beginning of the New Year as per Hindu Calendar. According to another fact, Manu, the very first human, took birth on Chaitra Krishna Pratipada on Earth. Moreover, Kaamdev also took birth on this day. Also, on the same day, Lord Vishnu rescued his devotee Prahlad from Hiranyakashyap.
Lord Shri Krishna used to celebrate this day with love and enthusiasm. The same vibe can still be seen in Mathura, the place of Lord Krishna himself. It is believed that he played this festival of colours with his group of friends and Radha. Lathmar Holi is still played in the native village of Radha, Barsana. It is very popular and people from around the world visit and come to be a part of this ritual.
Holi 2020: What To Do While Celebrating Holi
One needs to remain careful while celebrating the festival of colours. Many people commit several mistakes on this day which must be avoided. Following is a quick list for Holi 2020:
Holi should be celebrated using natural colours since it does not leave any effect on skin and eyes. There are varieties of organic colours that can be made quickly. Chemically based colours can harm the skin, and hence, one must use natural colours.
Many people do consume Bhang and alcohol on this day which they should not. It is an auspicious day, and drinking such things will destroy the vibe of this festival.
Holi is a festival to enjoy, but much water is wasted. It would be right if people play Holi using dry colours as save water.
Prepare some sweets and dishes and feast on it with your family and friends.
For more updates, stay connected with us as we keep sharing the informative content to spread knowledge about Indian festivals and traditions. Have A Very Happy and Safe Holi 2020.