Diwali 2020 Date and Auspicious Muhurat
Diwali 2020 (known as Deepavali 2020 too) will be celebrated across the country on 14 November this year. The festival of Diwali is the holiest and illuminated festival that is celebrated by everyone with pomp. On this day, everyone cleans and decorates the house beautifully. On Diwali, Goddess Lakshmi and Lord Ganesh are worshiped, and people give out a message of brotherhood.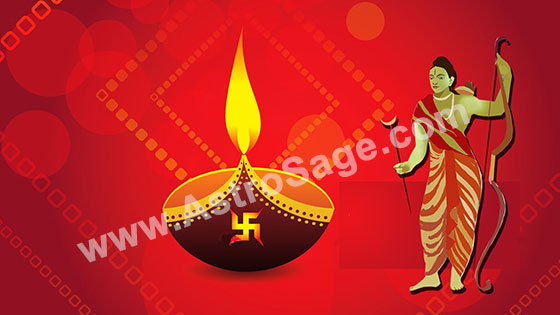 People believe that on this day, worshipping as per rituals, goddess of wealth Maa Lakshmi shower lots of wealth in the form of blessings and prosperity. This holy festival is not only celebrated by children but also by the elders with joy and happiness. Perhaps, Diwali is celebrated in Tobago, Malaysia, Myanmar, Nepal, Surinam, Sri Lanka, Fiji, Mauritius, Trinidad, Guyana and Singapore.
Free Horoscope For Your Zodiac Sign
Diwali 2020: Puja Muhurat
For your information, Diwali is celebrated on Amavasya of the Kartika month and during Pradosh Kaal because on that day darkness dominates itself on the world. However, people light up the world by lighting lamps, diyas and install electrical lights to illuminate their surroundings. If seen from an astrological point of view, they say that if during pradosh Kaal Amavasya does not occur, then Deepavali 2020 should be celebrated on the first date. Below mentioned are the date and shubh muhurat for Diwali 2020.
Diwali 2020: Lakshmi Puja Muhurat
Date
14 November 2020
Lakshmi Puja Muhurat
From 17:30:10 to 19:26:01
Time period
1 hour 55 minutes
Pradosh kaal
From 17:27:47 to 20:07:03
Vrishabha kaal
From 17:30:10 to 19:26:01
NOTE: This muhurat is effective for New Delhi.
Diwali 2020: Lakshmi Puja Rituals
It is believed that on the night of Amavasya, Goddess Lakshmi comes to the Earth and visit every house. In such a way, one should be very aware of the rituals and carry out the worship effectively with a devoted heart. Following are the steps for Lakshmi Puja in Diwali 2020:
Before worshipping, you should clean your entire house. Usually, people start planning it before one month.
Clean the temple of your house and decorate it beautifully.
After this, sprinkle the Ganga Water in the entire house including the temple.
Lay the red cloth on the place of worshipping and place the statue of Lord Ganesh and Goddess Lakshmi on it.
Now, Start the Aarti of Lord Ganesh and Goddess Lakshmi by lighting the Diya using ghee or clarified butter.
Keep items such as gangajal, moli or sacred thread, rice, fruits, jaggery, turmeric and abir-gulal or colours for worshipping.
Worship of Lord Ganesh and Goddess Lakshmi is done with the whole family.
After completion, distribute the Prasad among all family members.
These all are the rituals for Deepavali 2020.
Diwali 2020: Mythological Legend
As per Puranas, Diwali is celebrated because Lord Ram killed Lankapati Ravan and returned to Ayodhya after fourteen years of exile. Hence, people welcomed him by lightning the ghee-lit lamps and diyas. The festival of Diwali comes precisely 20 days after Dussehra (see the diwali 2020 dates above). There are many other mythological stories associated with this. One is about the devil named Narakasur, who used to disturb the gods with his superpowers, after which Lord Shree Krishna killed Narakasura on Chaturdashi of Krishna Paksha in Kartik month. Hence, this day was also called as Naraka Chaturdashi along with Deepavali 2020.
Diwali 2020: Astrological Significance
According to the astrologers, buying gold is auspicious and considered of high significance on this day. Well on this day (Diwali 2020), the market seems to be dancing along with the festive vibes. Everyone preplans what he/she is going to buy on this Diwali. According to the astrologers and experts, on the day of Diwali, Sun and Moon conjuncts auspiciously and gets placed in Libra during Swati nakshatra, hence weaving out fruitful results.
Diwali 2020: A Bundle of Joy Deepavali 2020
The festival of Diwali (Deepavali 2020) is prefixed and suffixed by other auspicious occasions. It's not just one day of celebration but a series of events. Children start celebrating the festival prior to its arrival. The schools, colleges, organisations and every unit dedicate their time to beautify their premises. Before the modern era took off, people used to get their houses whitewashed during this time. Since Lord Ganesha and Goddess Lakshmi are symbolic of weal, prosperity and bliss, taking out the negativity from home is a ritual performed even till date. Every corner of the house is wiped clean, and the same is done for the workplace. Lights and welcoming articles are used to make the aesthetic appeal of the place higher.
Like each year, Diwali 2020 will be celebrated in different colours this year too. In Punjab, the festival of lights is called Bandi Chor Diwas or the day of liberation. The story behind does include the story from Ramayana but also another one about the sixth Guru of Sikh community - Guru Hargobind Singh Ji. Mughal Emperor Jahangir held him imprisoned along with fifty-two other Hindu kings. Since the Mughal emperors were staunch enemies of other religions and wished to get everybody converted to Islam and tortured them for the same, a hatred was spread across the nation against the Mughals. Guru Arjan Dev, father of Guru Hargobind Ji, accepted martyrdom for the sake of religion. The fourteen-year-old kid from the very day decided to raise a military against the Mughals. He spent some time in prison but was finally released. Since he convinced the emperor to free other kings along with him, the day of release which was also the day of Diwali, received the name of Bandi Chhor Diwas. The religious practices are somewhat alike as lamps are lit, gifts and sweets are offered to dear ones, and feasts are held.
Another story is from the Jain community. It is said that Lord Mahavira got enlightenment on the day of Diwali. Buddhists believe that the great Ashoka accepted Buddhism on the day of Diwali. Southern and Eastern India also has certain distinctions for this day. However, the basic essence of Deepavali 2020 celebration lies in eliminating darkness and spreading joy.
Diwali 2020: The first day of Diwali is Dhanteras or the day dedicated to shopping. People purchase gold, silver and utensils in particular on this day. It is considered auspicious and has become a ritual to buy a vessel or utensil for sure. Everyone, either rich or poor, as per their ability, purchase something and believe that Goddess Lakshmi will come along. The second day is Choti Diwali or Narak Chaturdashi. Lord Krishna plays an important role in Diwali celebration. Not only Narak Chaturdashi is celebrated since Lord Krishna killed the demon Narakasura on this day but also Goverdhan, the fourth day of Diwali, i.e. the next day of actual Diwali celebrations also are dedicated to him. Goverdhan was the name of the mountain that he picked up on his little finger to protect the whole village from the wrath of Lord Indra. The last day of Diwali is dedicated to the bond of brother and sister. Entirely different from Raksha Bandhan, it is a day when sisters apply tilak to their brothers and pray for their happy life.
Among all the festivals in India, Diwali is the most celebrated one. Bringing light and putting the humans on the path of righteousness is the motive behind this beautiful occasion.
Hope, in Diwali 2020 darkness leaves your side and your life becomes beautiful and bright.