Cancer Horoscope 2020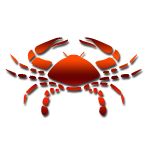 According to the Cancer horoscope 2020, this year will prove to be moderately fruitful for the natives of Cancer. Rahu will remain posited in the twelfth house from your moon sign when the year begins; hence this year will be unfavourable for you from an economic perspective. It means your expenditure will remain high during this year. Your expenses would increase unexpectedly in such a way that you will not be able to control them even if you wish. However, regarding career, you will climb up a ladder and make a fresh move in life. Your chances of going abroad due to your official assignments are quite high.
Horoscope 2020 predicts that you may be frustrated with your work. It will happen due to Saturn's transit in the seventh house from your moon sign. Family life will be challenging. If you wish to make a commitment and enter into a new relationship, then this year is going to be good for you. From August to October, you need to be serious about wealth, work and family. However, you may expect good news from children, this year. This year will be tough for the students. They need to work hard. Time after November will be better for career, and you would get opportunities for a new job.
Find your perfect match: Horoscope Matching
Cancer 2020 Career Horoscope Predictions
As per Career Horoscope 2020, this year 2020 is going to be excellent for the natives of Cancer sign. Your seniors and your boss will be happy with your work, due to which you may get a promotion prior to your due date. Those who are sitting idle at home regretting for not getting a job offer, may get a chance to work abroad.
In the middle of the year, you would portray a lot of love and dedication for your work. People will praise your enthusiasm, struggle and determination. There will be good professional relations within the country and abroad and also the opportunity to go on a journey would come to your way. Those who are involved in any business will get tremendous success this year. It will prove to be an auspicious period for you due to retrograde motion of both Jupiter and Saturn in the month of May.
Cancer 2020 Financial Life Horoscope Predictions
According to the annual horoscope 2020, a long-standing economic downturn of Cancer natives will come to an end this year. Due to the healthy financial conditions, you will invest your money in auspicious events or public service. This year, you will earn a lot of money, but the expenses will also increase sharply. The months of March and April will be better for investment in the stock market. You may invest during this phase for better returns.
You will invest a big share of your funds on the education of your children and their bright future. You must show seriousness towards the health of your parents and older adults in the house. For the same, you may consider taking health insurance policies. You can buy your own office this year with your savings. The month of July is auspicious for you to enter or buy a new home. At the end of this year, you will also receive opportunities to earn a lot of money.
Free Horoscope For Your Zodiac Sign
Cancer 2020 Education Horoscope Predictions
The year 2020 is going to be very important for you in matters concerning education and learning. From the beginning of the year, you will be very sensitive towards your education. Bypassing friendship, your primary focus will be on education. Luck will also favour you. Whatever work you initiate or take in your hands, will lead to success. However, at the beginning of the year, focusing on your studies will be difficult for you because of your poor health and an incident that was not very pleasant. However, the situation will soon become comfortable. In such a case, you must pay attention to your health.
According to Education Horoscope 2020 predictions, in the month of March, avoid any controversy and concentrate on your own work; otherwise, some dispute can affect your studies. In the month of May, when Mars will enter into the eighth house from your moon sign, a sudden break in education, due to some unavoidable reasons might occur. You might develop an interest in research at this time. However, this time is not right for those students who are thinking about going abroad to study. You will spend a lot of money this year in the field of study. But the good thing is you will earn form the same in the later run.
Cancer 2020 Family Life Horoscope Predictions
Family Horoscope 2020 forecasts that the year 2020 will offer mixed results to Cancer natives on the family front. Due to the effect of Saturn on your zodiac sign, you may develop differences with your family members to such an extent that you may decide to live independently. Otherwise as well, for other reasons, there's an indication of you living away from your family. Take special care of your mother's health during this time.
A situation of discord will arise in the family, and your mind will be disturbed. You will stay away from your family most of the time this year, but in the middle of the month of July, there will be reconciliation with the family members. During this time you will hear the problems of your family members and will support them in every way.
Cancer 2020 Health Horoscope Predictions
As per Health Horoscope 2020, this year will be very weak from the health perspective of Cancer zodiac sign. From the beginning of the year, you will see ups and downs. Due to increasing work pressure in the office, you may become a victim of stress and anxiety. Contact your doctor at the earlier in case of any health complication during the year 2020. Slight negligence can lead you to trouble. Avoid travelling in the month of May, although the end of the year will be enjoyable to you.
Cancer 2020 Married Life Horoscope Predictions
In the year 2020, your married life will be smooth. You will dedicate your time as well as attention to your life partner and your partner will completely understand your emotions and will emerge as your better half in every sphere. Whether it is a family affair or anything related to professional life, they will help you take the situation in control. Any long-standing problem will come to an end, and you will enjoy your married life.
Year 2020 is also going to be very special for unmarried people. You may get involved in a serious relationship, or may get married to the person you are dating for a long time. There will be some contention from the month of September. During this time you will feel mentally agile but calm. You should focus on the health of your children. Changing the place will lead to a change in weather that can affect their health although you can get good news from children, this year.
Cancer 2020 Love Life Horoscope Predictions
According to the Love Horoscope predictions for the year 2020, this year will be fruitful for the love relationships of Cancer natives. However, this year there may be some changes in your love life. Your time will be spent in romancing your love interest, and you may see them as a life partner. If you are looking for a new love interest, then this year your quest will come to an end. Those who think about marriage can get good proposal this year.
Astrological Remedies for Cancer in 2020:
Perform Chaya Daan. For doing this, put mustard oil in an iron vessel or a mud pot. After that, see your face in it and then donate it to someone.
On Tuesday and Saturday, lit jasmine oil lamp in front of Shri Hanuman Ji and worship him by reciting Hanuman Chalisa, Sundar Kand or Bajrang Baan.
Distribute Boondi or jaggery as offerings among children.
Best wishes from HindiKundli !