Bihu 2020 Date and Auspicious Muhurat
Bihu 2020 is the list of different types of Bihu festival that people celebrate each year. "Bihu" is one of the most important and auspicious festivals of Assam. This festival is celebrated with a great belief and enthusiasm among people. Bihu is believed to be the start of a new year in Assam. Moreover, most of the Indian states dedicate this festival to farmers. And therefore, Bihu is called the festival of crops and farmers too. On this festival, farmers from all over the country harvest their crops. Let's check out the information on Bihu and its different kinds: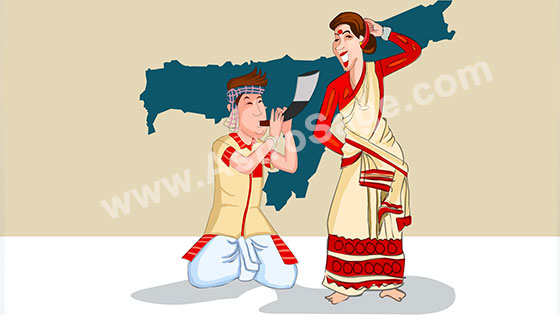 Bihu 2020 Celebrations
| | | |
| --- | --- | --- |
| Festival | Date | Day |
| Magh Bihu 2020 | 16 January | Thursday |
| Bohag Bihu 2020 | 14 April - 20 April | Tuesday - Monday |
| Kati Bihu 2020 | 18 October | Sunday |

Free Horoscope For Your Zodiac Sign
Bihu 2020: Festival & Its Significance
As we have already mentioned the dates for Bihu 2020 now let's discuss about its significance. Bihu is a prominent festival of crops. People decorate their houses and make Rangoli in the courtyard. To celebrate this festival, special dishes are prepared using new crops. Moreover, women and men sing folk songs and wear traditional clothes. One important thing is that it is not celebrated for only one day but stretches up to seven days. People wake up early and bathe with a paste of raw turmeric and urad dal. The turmeric and urad dal paste eliminates any skin based diseases and helps to get purified as per the traditional customs. After taking a bath, people wear new clothes and seek the blessings of the elders.
On this day, special food is prepared and served to every guest, hereby welcoming them with a devoted heart. People wish by embracing each other and give each other gifts. Moreover, this festival is also considered quite important since, on this auspicious day, the first drop of rain of the year falls on the crops and ground. Moreover, we all know how rain is essential to obtain good and healthy yields. On this auspicious day, girls and boys also play traditional musical instruments and dance together wearing traditional clothes.
Bihu 2020 and Its Astrological Importance
Many of you must know that Bihu is celebrated thrice in the year and same will be celebrated as Bihu 2020 this year. Rongali or Bohag Bihu is celebrated with a lot of joy and happiness in the month of April and indicates towards the beginning of Assamese New Year. Moreover, it is observed in different regions with a different name such as Baisakhi in Punjab, Puthandu in Chennai, Poila Baisakh in Bengal, Vishu in Kerala. Kati Bihu or Kangli is celebrated in the month of October.
Bihu is also important from the context of astrology since Sun transits in the zodiac sign Aries, which is why it marks the first day of Solar Calendar. Bihu is celebrated all across the country in three forms such as-
Bihu 2020: Bohag Bihu – Rongali Bihu or Bohag Bihu is celebrated with delight and marks the time of planting the seeds. Hence, the beginning of the New Year is also observed from this day. This festival is celebrated for a period of seven days with great happiness. On this occasion, farmers prepare the fields for cultivation. During this festival, a high air of feasting and festivity can be experienced which makes the atmosphere quite lovely and outstanding. The dates for Bohag Bihu 2020 has been mentioned above in Bihu 2020 calendar.
Bihu 2020: Magh Bihu – After Bohag Bihu, Bhogali Bihu or Magh Bihu is observed. It is celebrated after harvesting the crops. And therefore most states also call it the festival of harvesting crops. The celebration of Magh Bihu includes eating a lot of delicious food and getting indulged in entertainment. The dates for Bohag Magh 2020 has been mentioned above in Bihu 2020 calendar.
Bihu 2020: Kati Bihu – On this occasion, a winter fair is organised. Most people also call it the "Mela Parva". The motto of celebrating this festival is obtaining the blessings of God for a green and plentiful harvest. The dates for Kati Bihu 2020 has been mentioned above in Bihu 2020 calendar.
Bihu 2020: Traditional Sweets and Dishes
The dishes and sweets are completely prepared in sync with the taste and culture of Assam. People prepare the dishes, sit together and enjoy a heartfelt meal all-together. Talking about the prominent dishes related to Bihu, there is a long list which includes dishes such as Khar, Aloo Pitika, Jaak, Masor Tenga and Mangsho etc. Moreover, the method of preparing these dishes is also different in each state and therefore, the taste may differ. Let's know about some of the dishes for Bihu 2020:
Khar - For this dish, the ingredients include papaya and burnt banana stem which makes it even more delicious.
Potato Pitika – This dish is prepared using boiled potatoes, onion, green chillies, green coriander, mustard oil, and salt. Somewhat similar to the Chokha prepared in Bihar, this dish tastes extremely great and goes perfectly with rice.
Jaak- Next on the list is Jaak, which is prepared using the green leafy vegetables. The best thing about this dish is that it is quite good and nourishing for your body.
Masor Tenga– This is one of the prominent fish dishes of Assam. This dish has a slightly sour taste. Many ingredients are added to it such as kokum, tomatoes, herbs, lemon and so on to make it more delicious and savoury. Masor Tenga is usually eaten with bread/roti and rice and holds a lovely taste.
Mangsho Mutton Curry- Known to be a mutton dish, Mangsho is quite popular among people of all ages right from kids to elders. It is savoured with Lucchi or Rice Pulao in Assam with an open and rather deliciously-drowned heart.
As mentioned, the list of dishes prepared on Bihu doesn't end here as such. There are several prominent dishes and rituals followed by the people locally and all over the world. If you have never tasted these dishes, then you must try it this year. We hope that you like this informative content based on Bihu 2020. Stay tuned with us for more information.
We wish a very Happy Bihu to you and your family.